Damaged Roof Inspections
It's important to inspect your roof for curling or buckling shingles along with other signs of deterioration. In doing so, you can repair damage before it worsens.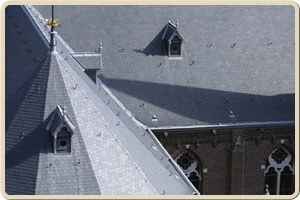 Remember, once a roof starts to leak much damage could have already been sustained to the roof. Catching damage before water starts to leak through is a good way to save money with repairs or roof replacement.
Roof Inspections in Phoenix, Arizona Checks for Roof Damage and Leaks
There are over one thousand types of roofing systems. The way to ensure that you're getting a educated inspection is to hire a trained professional. Our skilled professionals can inspect your roof for you. We look at your present roofing materials and check for signs of cracking, buckling or even missing sections of tile, shingles or other roofing products. If your roof inspection shows a need for some repair, you don't have to look elsewhere. Gecko Roofing does roof repair and replacement as well. If your roof doesn't need repair or replacement we'll let you know that too.
Gecko Roofing trained professionals will give you a complete inspection. Contact us today for more information or to schedule your roof inspection!