Tile Roofing
Tile roofing can add a sense of simplicity, rustic western flare, or outstanding architectural design to any residential home or commercial building. There are many different types of tile roofing, including clay, fiberglass, metal and more. When you want tile roofing you want Gecko Roofing! Our contractors have the experience you need for your residential or commercial roofing projects.
High quality tile roofing repair and installation services for Phoenix, Arizona homes & businesses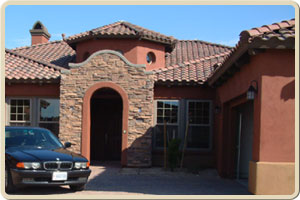 Whether you're fixing a leak or repairing an old roof let the people at Gecko Roofing assist you. Our skilled roofing contractors can help you build and repair your tile roofing. We also work with flat roofs, rolled, foam and other roofing products. Contact us today!
Experienced contractors
Quality products
And so much more!